Teams are as standard open to everyone in the organisation, anyone can join a Team and get information of what is discussed within that Team. You can also set a Team to private if you don't want everyone to be able to join that Team, other users will be able to find the Team and ask for permission to join but they won't be able to see any information until they are invited as member.
In the Team you have standard channels and all members in the Team see all information and participate in these standard channels. Previously when you wanted to hide some information from parts of the Teams, maybe in a project you want to discuss budget or resources only with management for the project, then you had to create a separate Team. And if you been working in Teams for a while you know that it can be hard to keep track of everything happening if you are a member of to many teams. To solve this Microsoft created Private channels, so when you create a new channel you will have two options; Standard channel or Private channel.
Private channels been requested for a long time and is the most voted request on the uservoice page, so I guess many users and organisations are happy when it finally is available. I've summarized information from THR1080 at Ignite 2019 here.
A private channel will have a small padlock icon to the right of the channel name (1), you will also have a people pane (2) to see who is in the channel (3) and in the bottom of the people pane you have the option to add more users to that channel.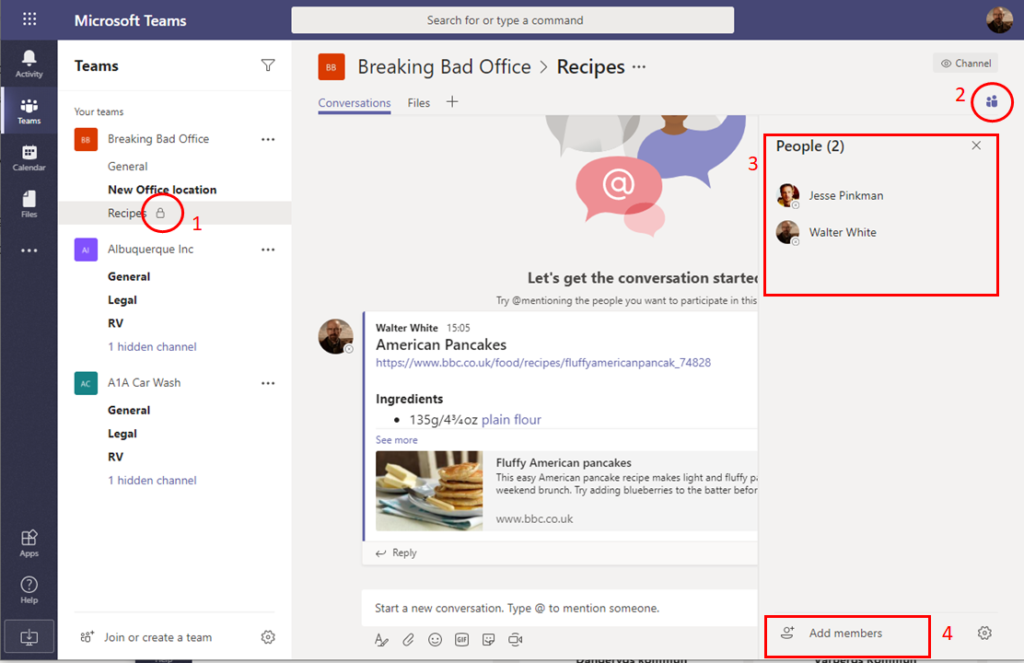 Creation
Admins can control with policy who can create private channels in a tenant
Team owners can control via settings if private channels are available in their team
You can have 30 private channels in a team and 200 standard channel (230 channels in total)
To create a channel create on the three dots next to the Team name and select Add channel.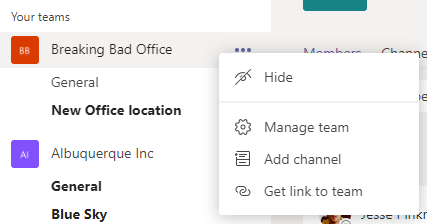 Enter Channel name, Description and select Privacy: Private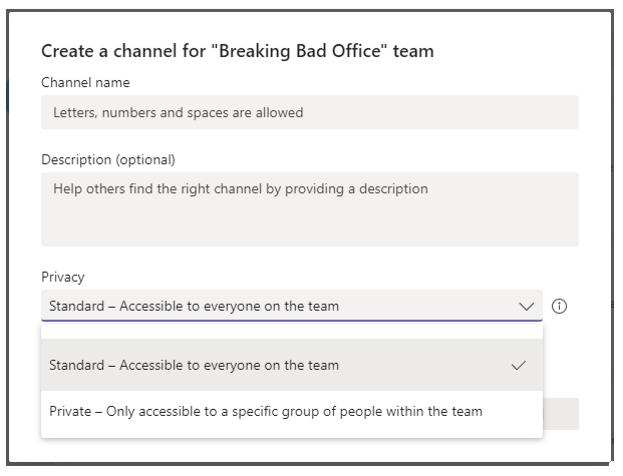 Then add members to your channel.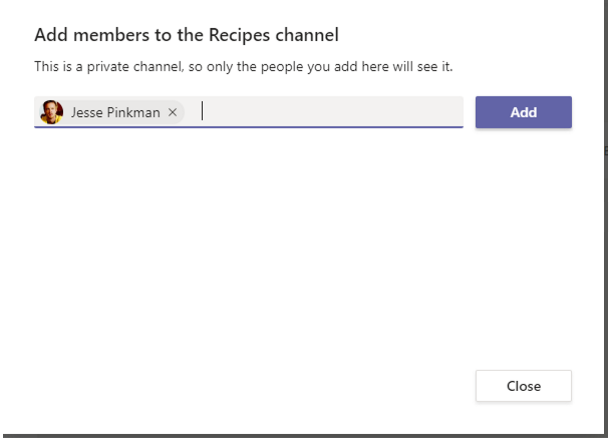 Administration
If you as a team owner don't want team members to create private channels you can limit this from settings for the team, unselect "Allow members to create private channels".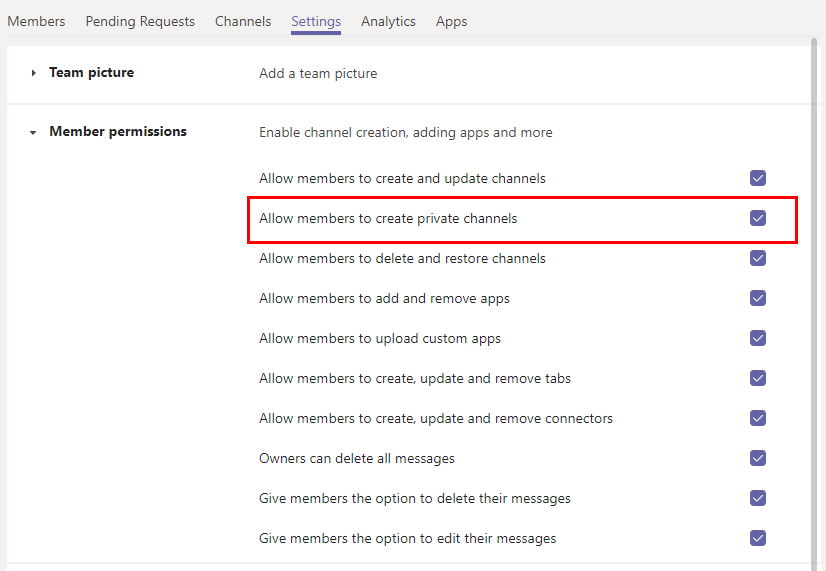 If you as an admin don't want your users to create private channels you can change the global Teams policy or create a new one and assign it to them.
Open Teams Admin Center and open Teams > Teams policies in the left menu
Mark the Global policy
Click Edit
Change Create private channels to off
Click Apply to save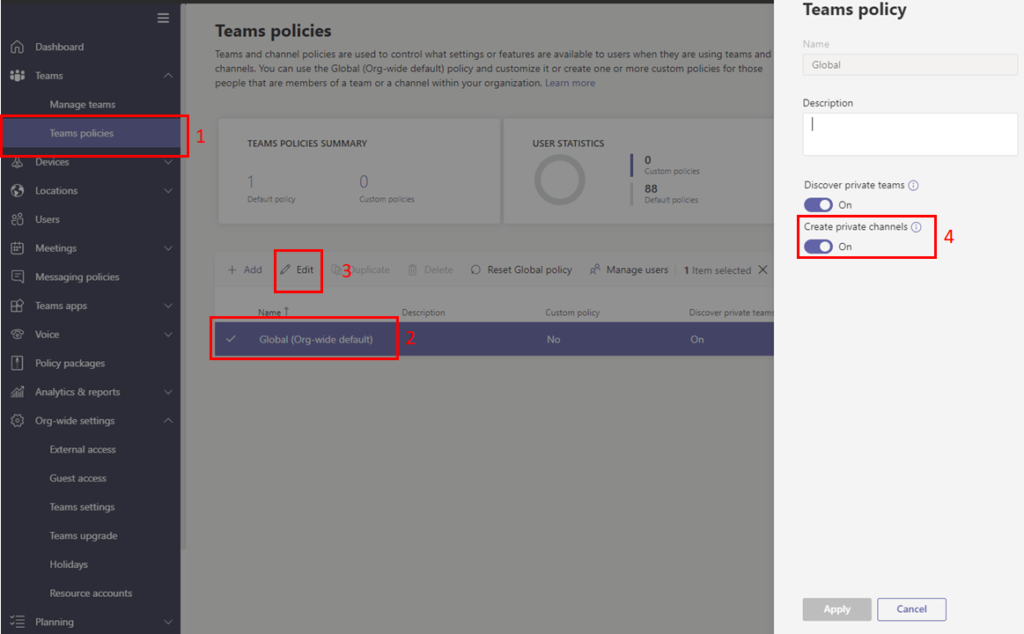 Membership
When you add a user to a channel they first have to be a member of that team, you can't add a user that is not a member of the team that the channel belongs to.
Private channel owners can add members and guests to a private channel
Users that are not member of a private channel will not be able to see it.
A team owner that are not a member of a private channel will not be able to see the content in the private channel
At launch there is a limitation of 250 members of a private channel
The last owner can't be removed, it always have to be a owner of the private channel
Team owners can see the name of private channels they are not a member of
Team owners can see the owners of a privite channel even if they are not a member of it
Team owners can see when the latest activity in a private channel was
Team members that are not a member of the private channel will not see it in the channel list
Channel settings
Another difference to a standard channel is that in a private channel you have more settings. So for the private channel you can set Member permissions, @mention settings and you could limit Fun stuff.
Settings are inherited from the team when the private channel is create but you can change them later for the private channel without affecting the team setting.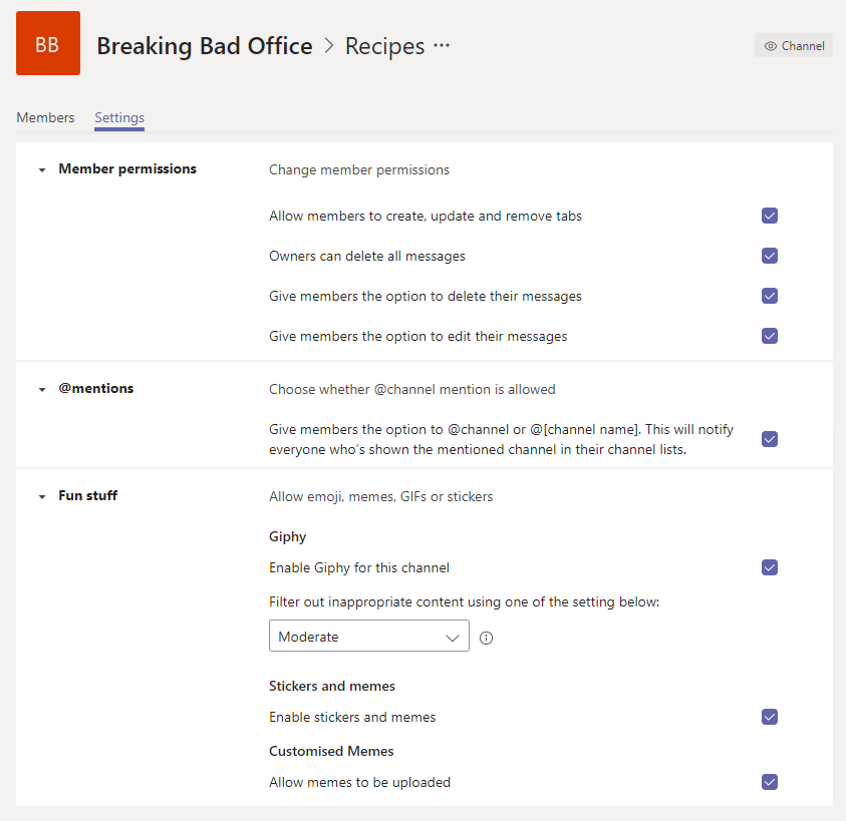 Files
As you maybe know Teams stores files in SharePoint, for each team that you create a new SharePoint site is created and for each standard channel you create the will be a new folder in that SharePoint site. But for private channels a new SharePoint site will be created to ensure that only members of the private channel can access those files. The SharePoint site will be named "<Team name> – <private channel name>".
The reason behind this is that even if you can set permission on a folder in a SharePoint site collection the owner (team owner) have access to all files and folders, so if the same site collection would be used as the team we would not be able to limit team owners access to the files in a private channel.
Site collection limitation been enhanced from 500K to 2 miljons per tenant.
If you delete the private channel the site collection in SharePoint will also be removed, you do not have to do that manually. If the site collection is deleted outside of Teams and not the the private channel in Teams it will be recreated by a background job within 4 hours. If the site collection is permanently deleted in SharePoint and the private channel still exists in Teams a new site collection will be created.
If the Team that the private channel is removed the private channel and the SharePoint site will also be removed. If you restore the Team (office 365 group) the private channel will be restored, but not the site collection.
Apps
It is possible to add tabs and connecte to a private channel, apps have to be added to the team first and then can be used in the private channel.
Bots and message extension support is coming later, no date published yet.
Applications that are connected to the Office 365 group like Planner is not possible to use. This is because the Office 365 group is used on team level and a planner in a private group would not be private because of this. Support is coming later when Microsoft can ensure that information will stay private within the private channel.
Information protection
In Team is associated with an Office 365 group which have a Group mailbox. This mailbox is used for storing standard channel messages for compliance purposes (Teams client does not read from the mailbox directly).
To make sure that no Group members can access information in a private channel there is another approach for private channels. So for private channels chat messages are saved in user mailboxes of the members of the private channel for compliance. Every member of the private channel will have a copy of each message in their mailbox as long as they are a member of the private channel.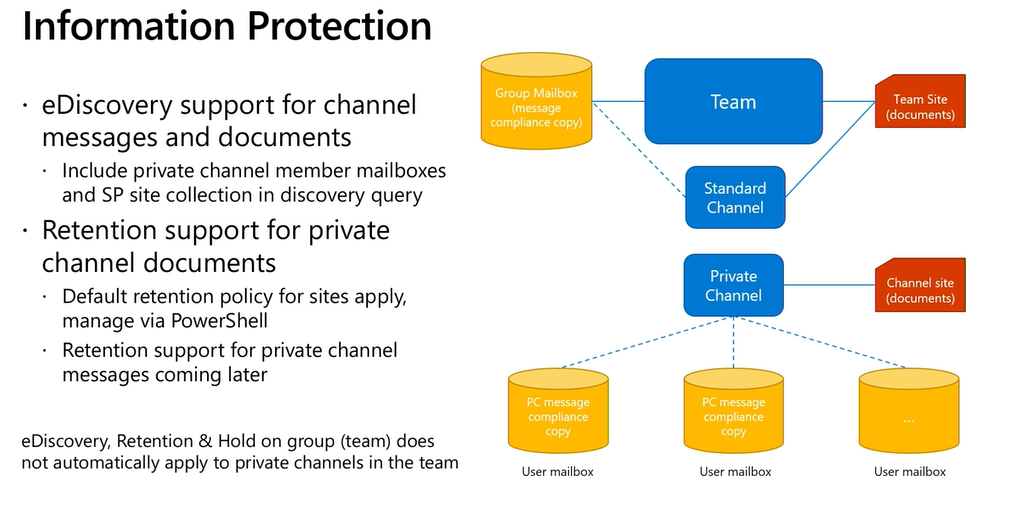 Retention is available to files stored in the SharePoint site collection but not for chat messages that are sent to the private channel. Support for retention for messages in private channels will come in the future.
More information
If you want more information about this you should checkout this session from Ignite 2019 with Roshin Lal Ramesan.
https://myignite.techcommunity.microsoft.com/sessions/83912?source=schedule
Or you can read the documentation here
https://docs.microsoft.com/en-us/microsoftteams/private-channels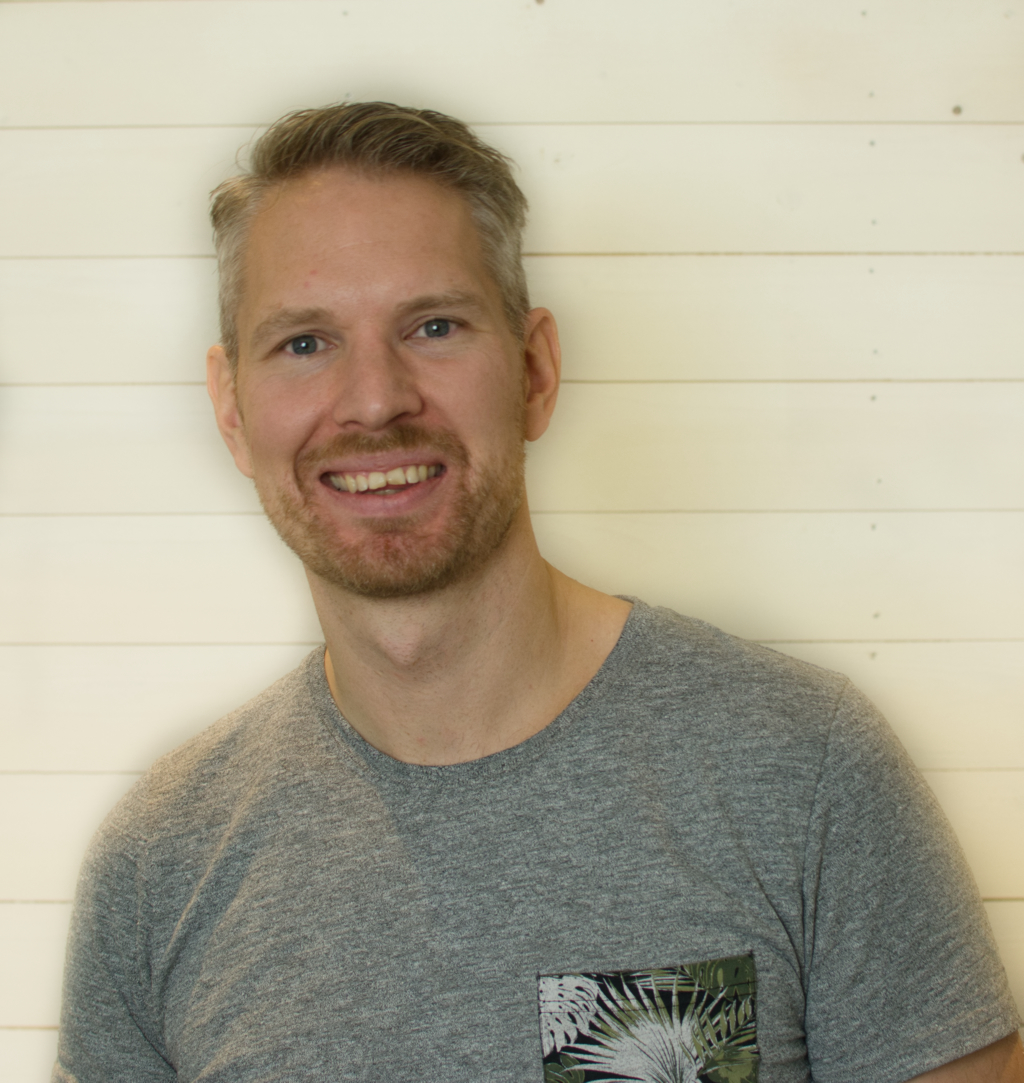 M365 Apps & Services MVP | Consultant work at Exobe, based in Göteborg, Sweden. Co-host of Teamspodden, co-organizer of Teamsdagen. Been working with Exchange, LCS, OCS, Lync, Skype, Teams and related stuff for a while. Mostly writing tips and news after getting questions from customers.