Teams recordings in OneDrive/SharePoint
Microsoft announced during Ignite that Teams recordings will be saved in OneDrive/SharePoint instead of Microsoft Stream. Today when you record a meeting (or call) in Teams it will be recorded in Azure Media Services and then uploaded to Stream, but now it will uploaded to OneDrive instead.
Meetings will be saved in your OneDrive and Channel Meetings will be saved in SharePoint.
New values and gaps
With OneDrive you will get retention policies for your recordings. Users will be able to share recordings outside of the organisation with external users and guest users, using OneDrive and SharePoint features. Users will also able to request access to a recording if they were not in the meeting that was recording.
You will also be able to use the Multi-geo support and "Go local" to keep the recordings close to the users.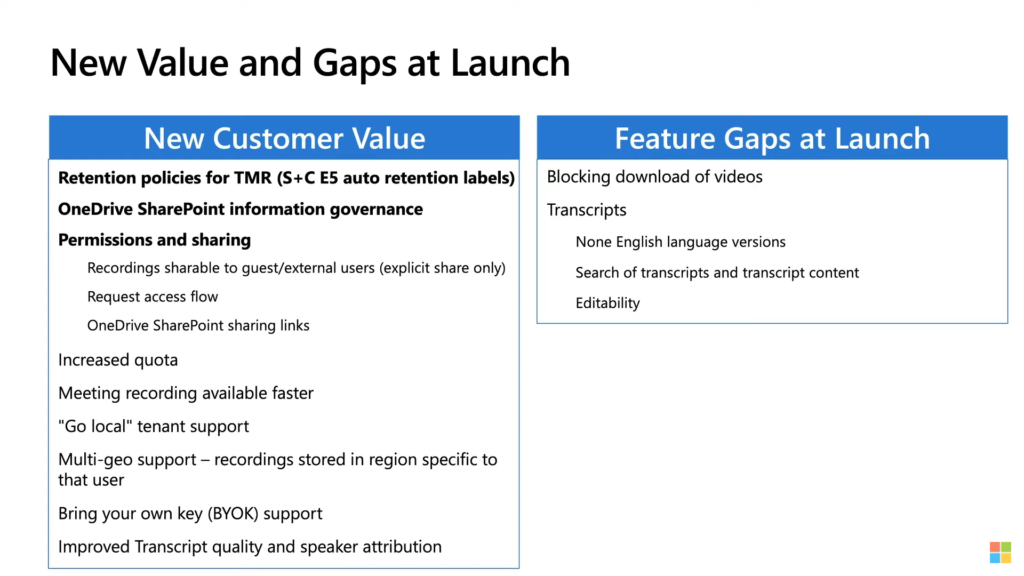 At release there will be some gaps that Microsoft will work on solving as soon as possible. Transcripts will only be available for English, you will not be able to search transcripts. In Stream it was possible to edit videos, you will not have that feature with OneDrive and SharePoint.
Record a meeting
Recordings will be posted in the chat for a meeting or in the channel conversation for a channel meeting.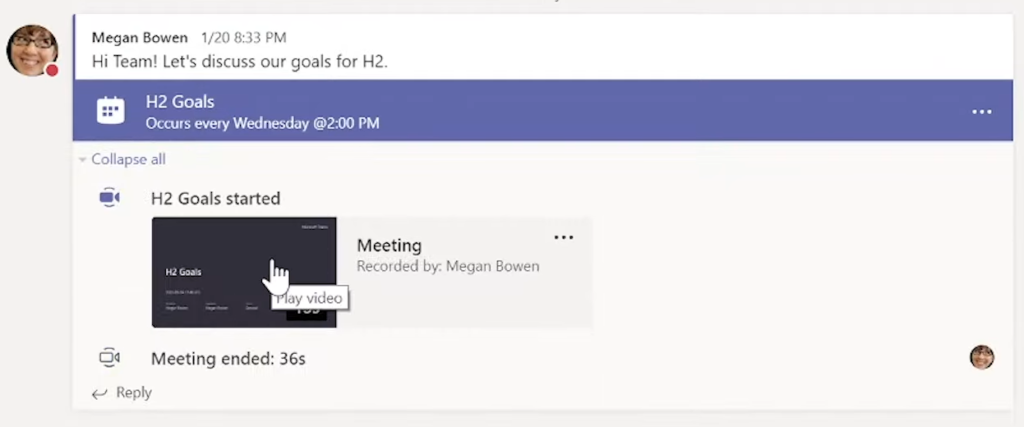 When you open the video you will be able to view it in OneDrive/SharePoint and use the sharing capabilities.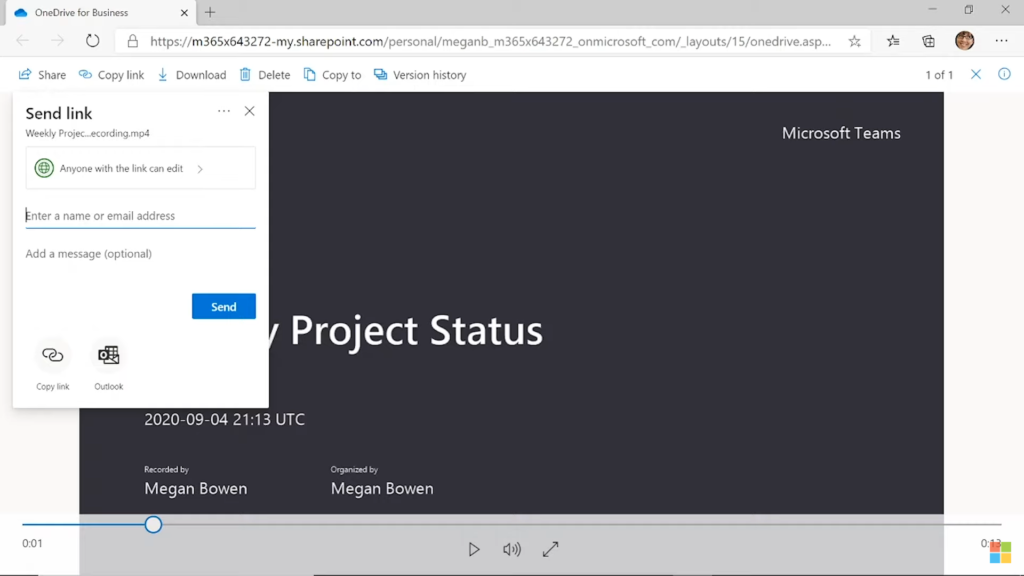 If you check in OneDrive you will see a list of all your recordings.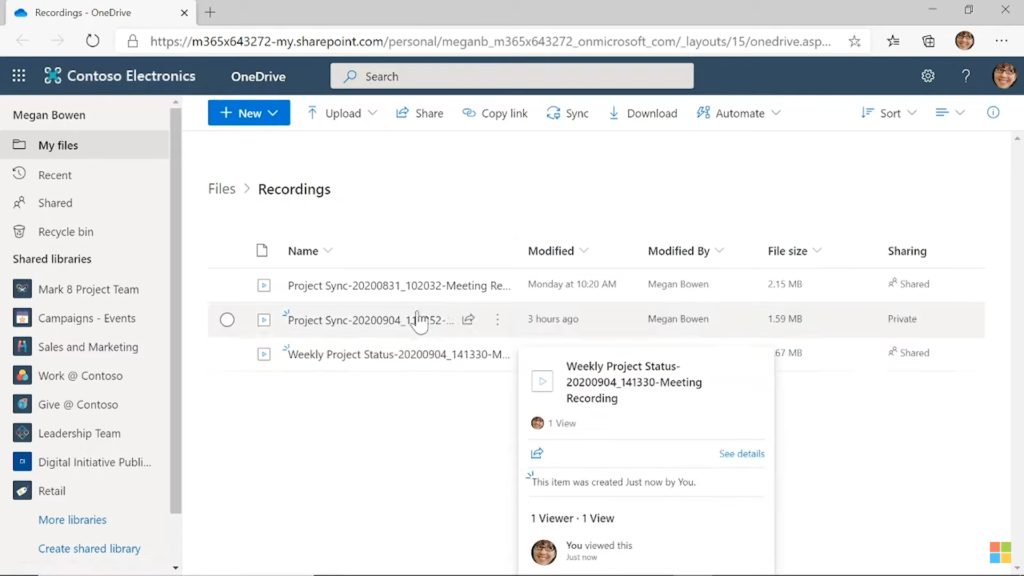 Storage Locations and permissions
Channel meetings will be saved in SharePoint in a folder called Recordings in the channel folder in the Team.
All other meetings, both scheduled and ad-hoc, will save the recording in OneDrive of the user that starts the recording.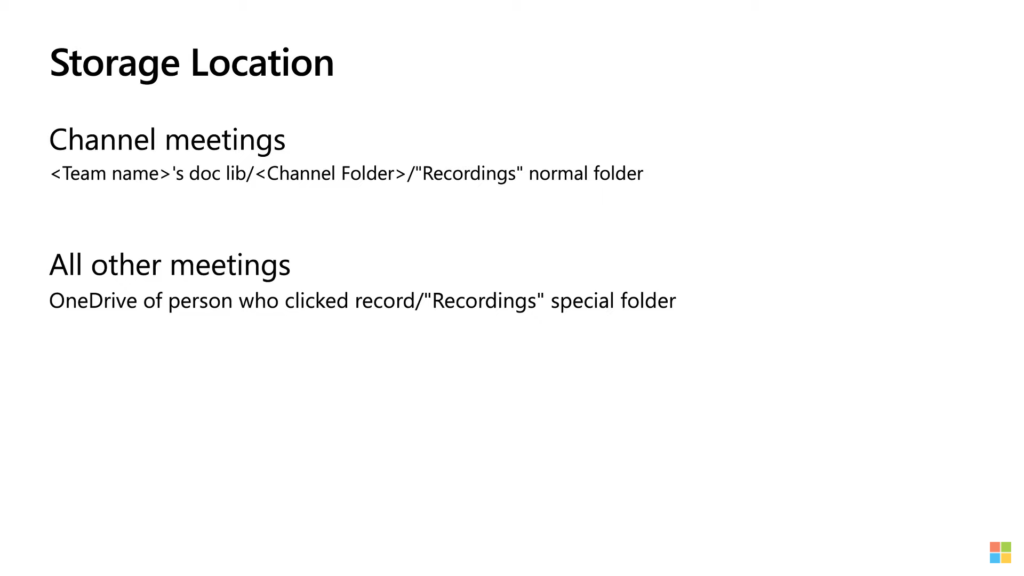 For recordings in Channel meetings the permissions will be inherited from the Teams channel owner/members list. New users added to the Team will get access to old records.
For other meetings the participants of the meeting will have access to the recording. External/Guest users will be able to request access to the recording. Only the user that starts the recording and the user that organised the meeting will be able to edit the file, other internal meeting participants will have view access.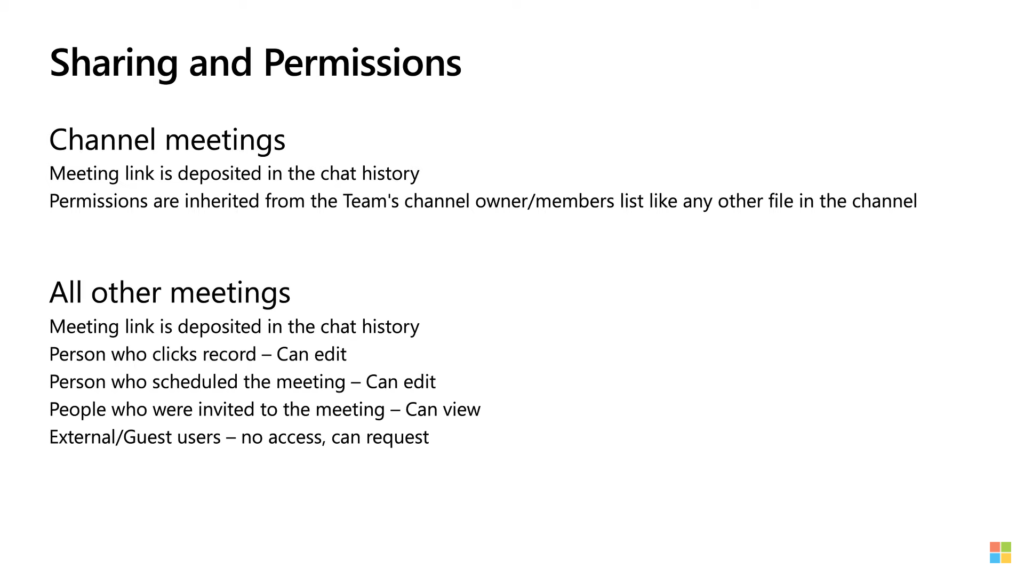 Retention policies
Since recordings will be stored in OneDrive and SharePoint we will be able to use the retention policies for meeting recording. With the Microsoft 365 E5 Compliance package you can do this.
Retention policies can control so that recordings are retained for a set time period or that they are deleted after a time period, or you can set them to be retained and then deleted.
Timeline
Meeting recordings in OneDrive/Sharepoint will be available as opt-in via Teams policy in Sharepoint early Q4. Then mid-Q4 it will be rolled out to all tenants that haven't opt-out. In Q1 2021 all meetings recordings will be saved in OneDrive/SharePoint. Old recordings will be kept in Stream.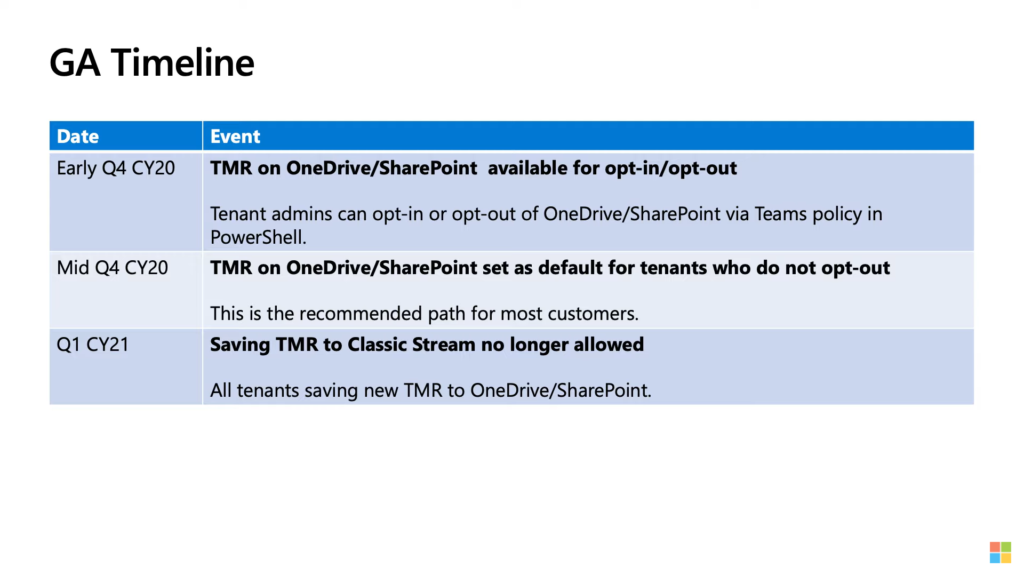 To Opt-out or Opt-in you have to use PowerShell and the Set-RecordingStorageMode.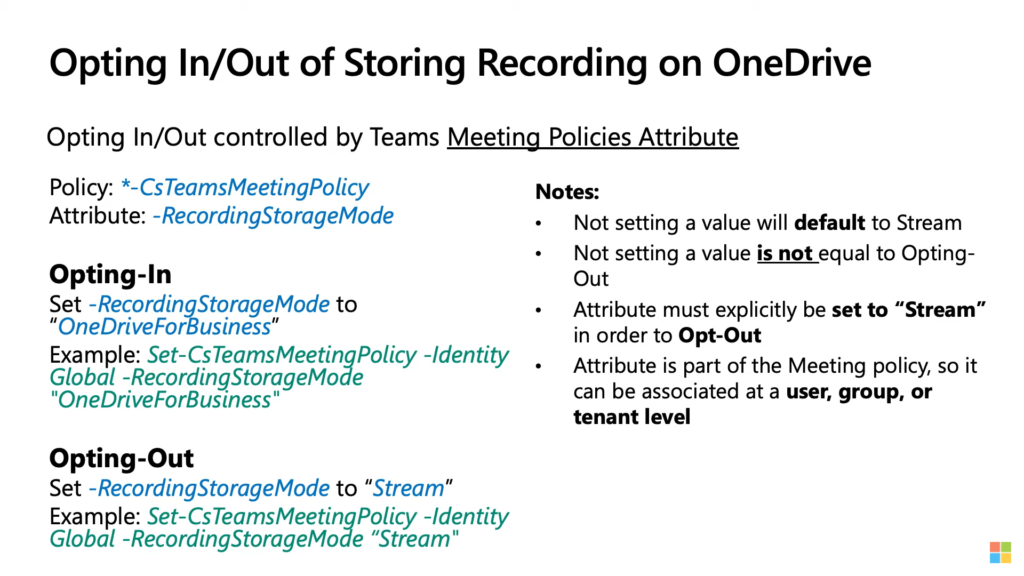 Later we will see more features for Teams Meeting Recordings.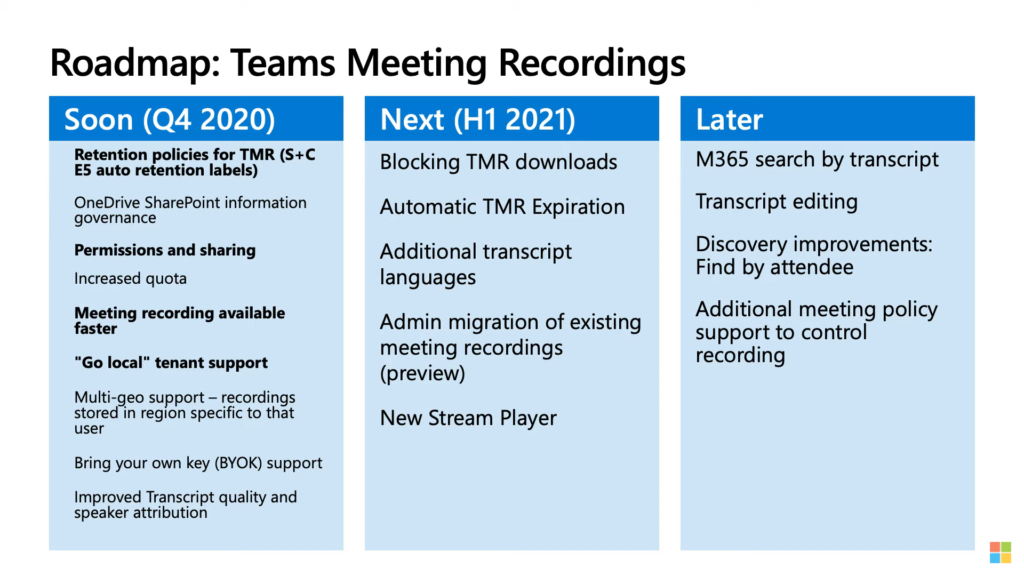 Later you will be able to set a customised expiration for meetings, as standard they will expire after 60 days but that can be configured by admins. Users can modify this for individual meeting recordings. Microsoft data shows that few recordings are watched 60 days after the meeting.