I have to start this with a disclaimer, I don't use voicemail. If I call someone and they have voicemail activated, I might listen to the message that usually is the default message and then I hang up. I still have voicemail activated for my number connected to Teams but I don't really "use it", with the out of office messages I think that the Office 365 Cloud Voicemail give some extra than "just a voicemail". Also with Swedish callers recording messages that gets transcribed in English, that can be fun sometimes to read.
For Skype for Business the voicemail was hosted in Exchange but with Teams Microsoft released a service called Cloud voicemail (previous Azure Voicemail). In the start this was kind of basic but now end users can do more configurations. You can configure Cloud Voicemail from your Teams client or from a web page. If you are using Exchange UM today please check this: https://www.lync.se/2019/02/bye-bye-unified-messaging/.
Configure Cloud Voicemail from Teams
Open settings in Teams and select Calls and then click on Configure voicemail.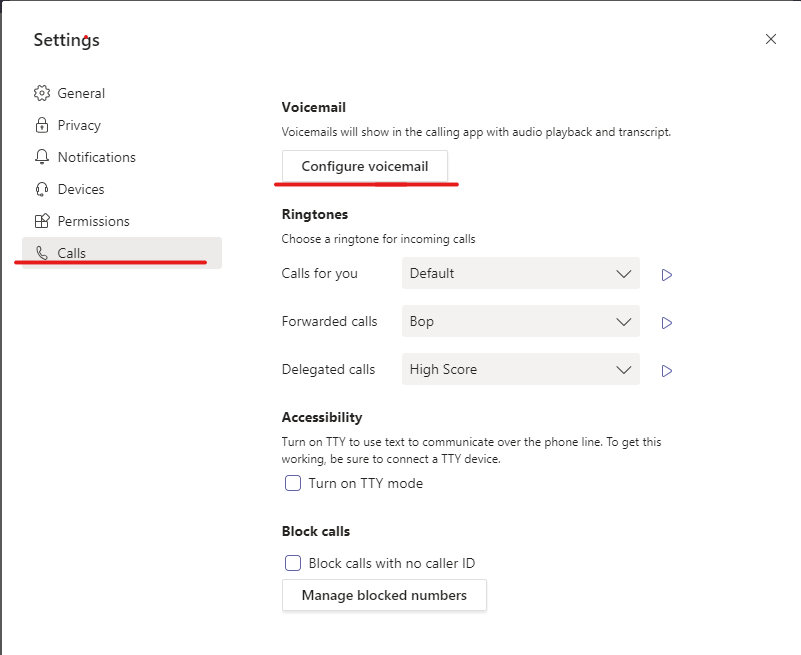 The settings for Voicemail should open in Teams settings now. Record a greeting button will start a call from Teams and let you record your own greetings instead of the default one. When you have recorded a personal greeting or a personal out of office greeting the default text-to-speech greeting won't be used.
Call answering rules
Call answering rules allows you to setup how your voicemail should handle incoming calls to voicemail. If you just want to play a greeting and hang up or if you want to transfer the call to someone else.

| | |
| --- | --- |
| Let the caller record a message | Default option that will play your recorded greeting (or the default one) and then the caller can record a message that will be sent to you. |
| Let the caller record a message or transfer to someone else | Your standard greeting will be played and then callers will be able to record a message and have the option to press 0 to be transferred to the number/contact you set in the options. |
| End the call without playing your greeting | Calls will be disconnected without any greeting |
| Play your greeting and end the call | Will play your greeting and end the call without giving the caller the option to record a message |
| Transfer the call to someone else | Callers will be transferred to a number or contact that you set after your standard greeting and a message telling the caller "Please hold while you are being transferred". |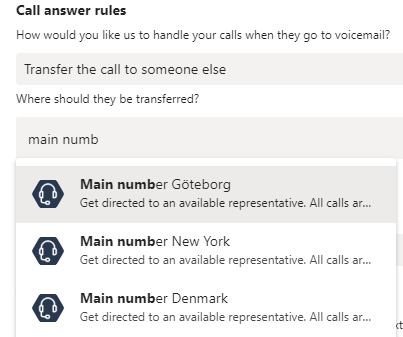 Transfer calls
In the Call answer rules you have the option to transfer the call to someone else, maybe a operator or a colleague. Type the name of the contact you want to transfer to and you will be able to select a contact from your organisation contact list.
You can also type a phone number in E.164 format, ex. +4612345678.
Delete a recording
If you don't like the recording you have recorded you can delete it. Voicemail will then play your text-to-speech greeting if you have on or the default greeting.
To delete your recorded greeting, click on Record a greeting in Teams Settings > Calls.
This will dial voicemail settings .
Press 2 to change your personal greeting.
Press 1 to play and record your personal greeting. (then listen to it)
Press 3 to delete your personal greeting.
Hang up
Greeting Language
You can select another Greeting language in the drop-down list. You can also find the list of available languages here:
https://docs.microsoft.com/en-us/microsoftteams/languages-for-voicemail-greetings-and-messages

Text-to-speech greeting
In these text boxes you can type your own default voicemail greeting that will be played when calls get connected to voicemail and you can type a out of office greeting when you are out of the office.

If you have recorded your own message these text-to-speech greeting won't be used.
Out of office greeting
You can have your voicemail follow your out of office settings in Outlook. So if you set an out of office reply message in Outlook or if you have an appointment in Outlook with out of office status a special greeting can be played. Check one or multiple checkboxes.
All the time
Out office greeting will be played all the time, even if you are working.
When I have an Outlook auto reply
If you have an active Automatic Reply in Outlook your voicemail will play your out of office greeting.
How to set Automatic Reply in Outlook
When I have an Out of Office calendar event
If you have an active Outlook calendar appointment with the status Show as Out of office and this option selected your out of office greeting will be played.
Appointment with show as Out of Office
Change voicemail settings from Web
You can also do these seeings from a web browser. Open https://aka.ms/vmsettings and sign-in with your Office365 credentials. You will see the same options as from your Teams client.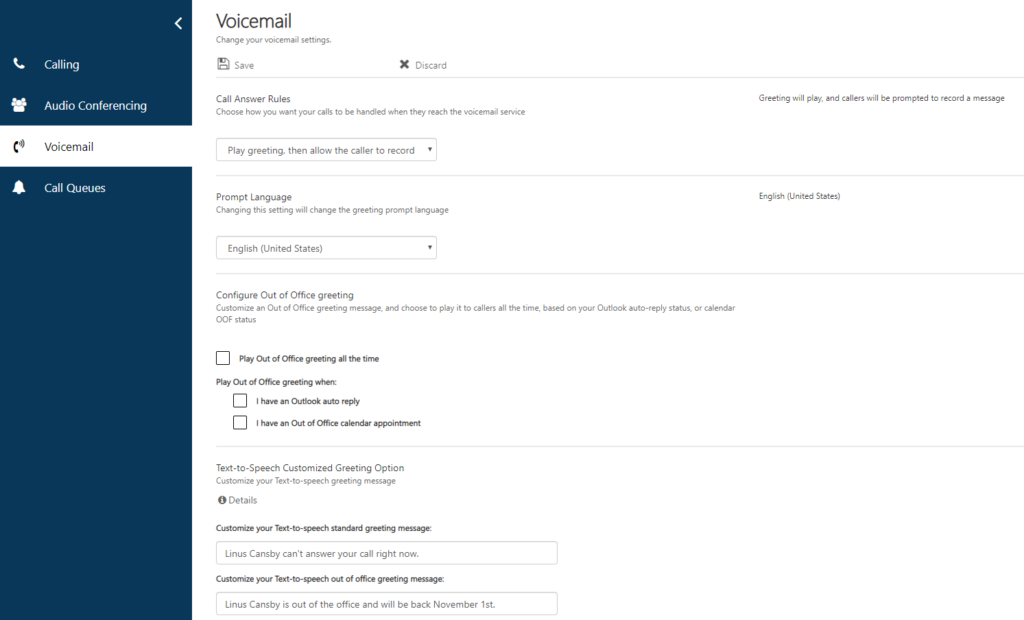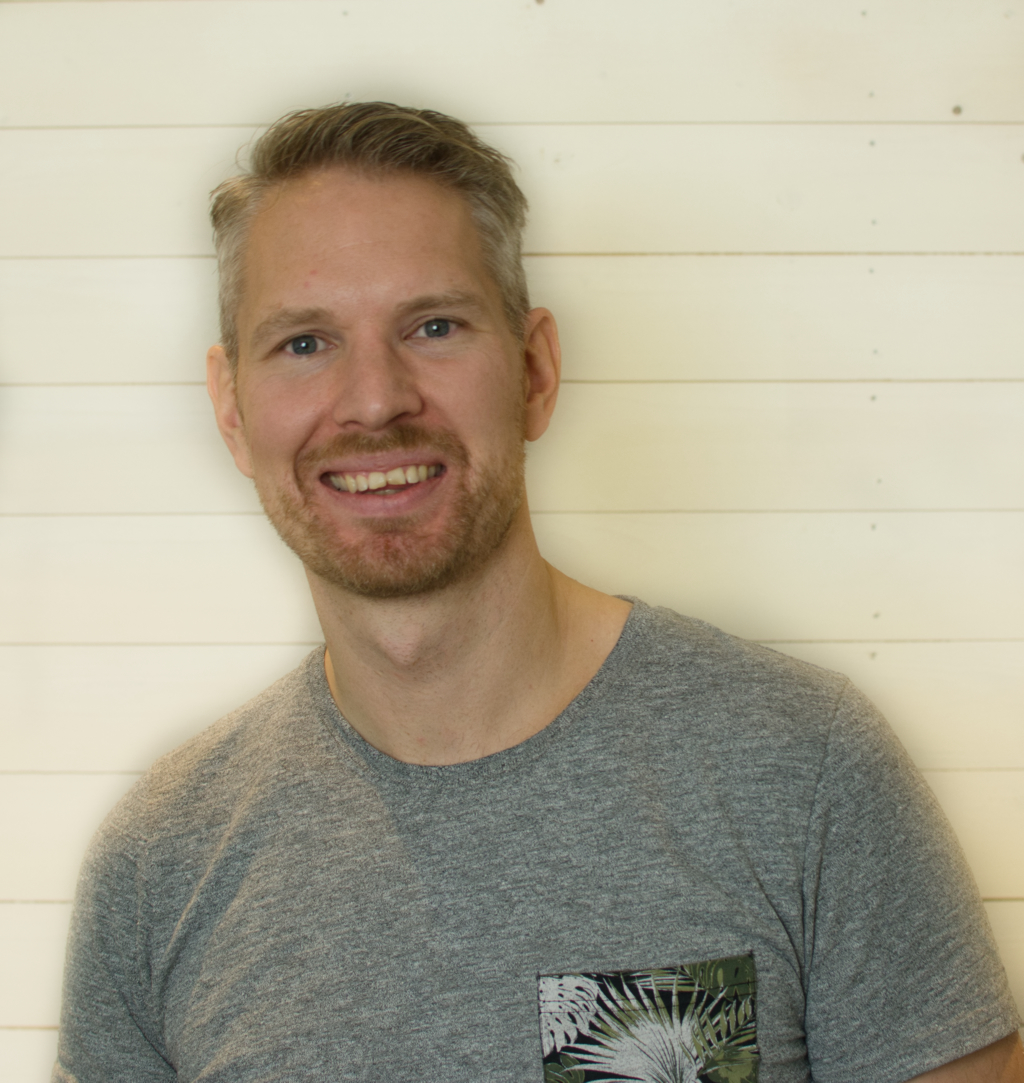 M365 Apps & Services MVP | Consultant work at Exobe, based in Göteborg, Sweden. Co-host of Teamspodden, co-organizer of Teamsdagen. Been working with Exchange, LCS, OCS, Lync, Skype, Teams and related stuff for a while. Mostly writing tips and news after getting questions from customers.