Also read about some updates:
Meeting options available in Teams meetings — Lync.se

In Teams meetings everybody are Presenters. With the presenter role you can mute others kick them out from the meeting or take over the meeting and start presenting. In larger meetings this can be a bit problematic. But now with a new feature you can select who should be a presenter and should be attendee, this is controlled from Meeting Options for your meeting. Earlier you were only able to control who could bypass the lobby in Meeting Options, read more about it here.
Roll out starts: mid-November
Roll out completed: Late November
When you schedule your meeting in Outlook you have the option "Meeting Options", click on that link while holding CTRL-button.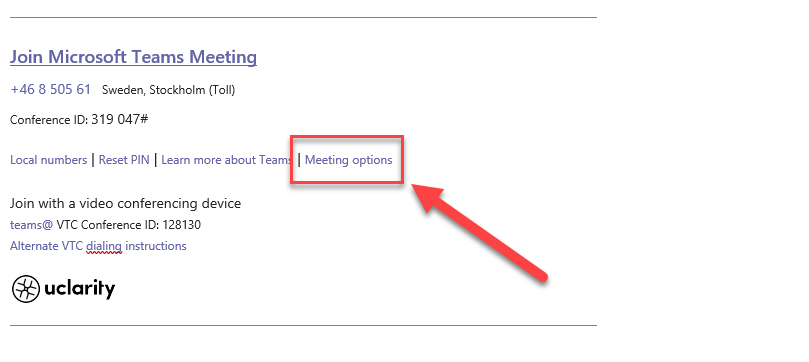 From Teams calendar you can also select Meeting options, but you have to send the meeting first. It is after you sent away the meeting invite you can see Meeting Options in the meeting.

Here you can select who should be a presenter (Who can present?).
Everyone (default) – This is the option that will be selected if you don't change anything. Everyone in the meeting will be a presenter when they join.
People in my organization – People in the same Office 365 tenant as you will be presenters when they join the meeting
Specific people – Select who should be a presenter. You have to send the invite util you can select other presenters.
Only me – The egoistic choice but maybe the easiest.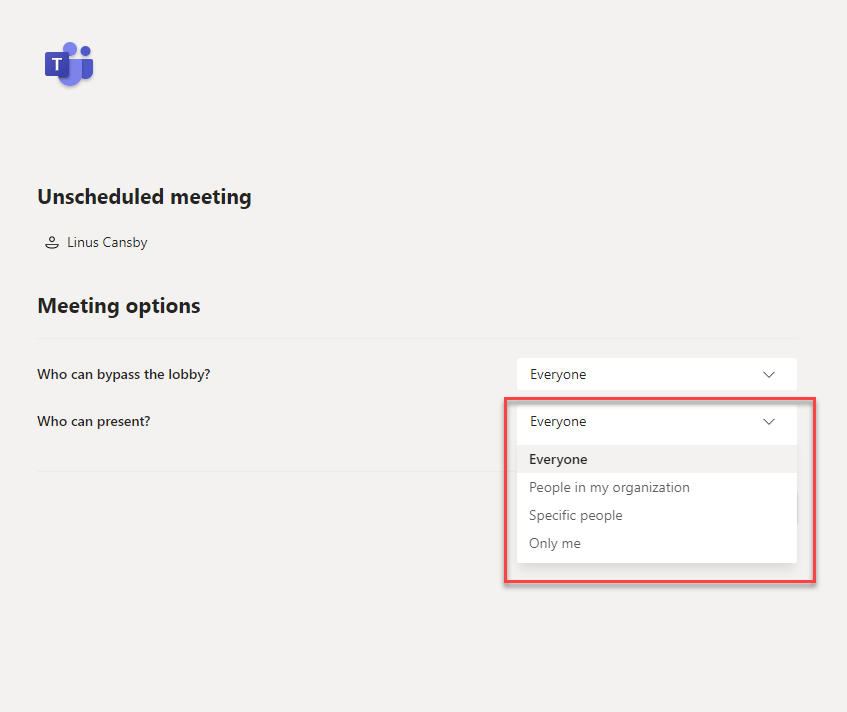 Specific People
To select specific people send your invite first, then select the meeting options link. You can only select people from your organisation, not external attendees.

Select Specific People in the "Who can present"-dropdown (1).
Search for a participant (have to be invited to the meeting first (2). Or:
Use the drop down to select one or many presenters.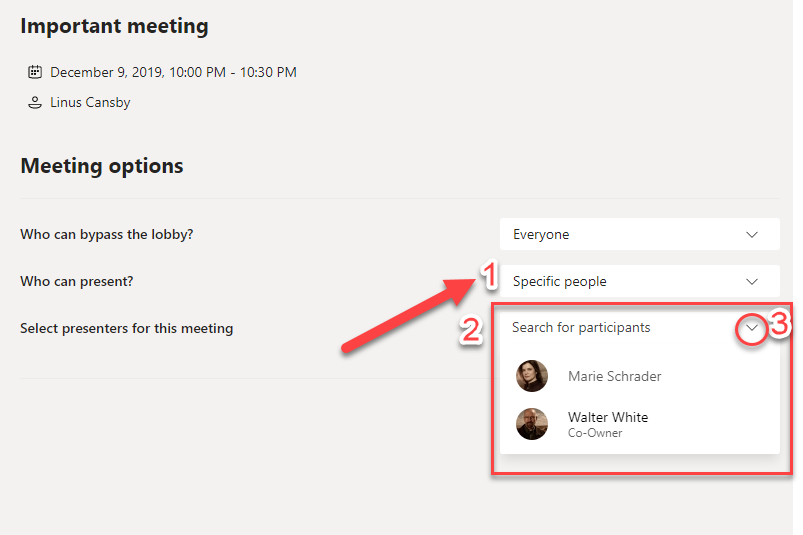 Change in an active meeting
If you have an active meeting and what to change a presenter to an attendee role instead first click on the People button.

Update You can reach Meeting Options from the People pane, click on the Manage permissions button and a web browser will open with Meeting Options. This is useful if you start a meeting with "Meet now".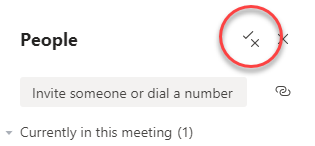 In the People pane select select More options (…) next to the person you want to make an attendee, then select Make an attendee. You will get an warning first, select Change on that to perform the change.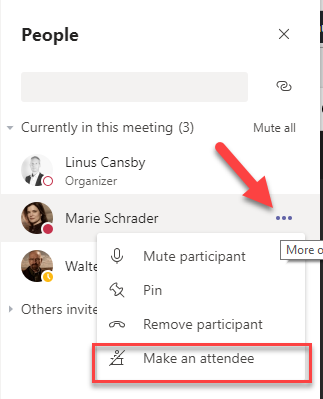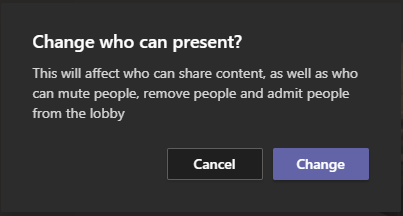 Roles in a meeting
| Capability | Organizer | Presenter | Attendee |
| --- | --- | --- | --- |
| Speak and share video | | | |
| Participate in meeting chat | | | |
| Share content | | | |
| Privately view a PowerPoint file shared by someone else | | | |
| Take control of someone else's PowerPoint presentation | | | |
| Mute other participants | | | |
| Remove participants | | | |
| Admit people from the lobby | | | |
| Change the roles of other participants | | | |
| Start or stop recording | | | |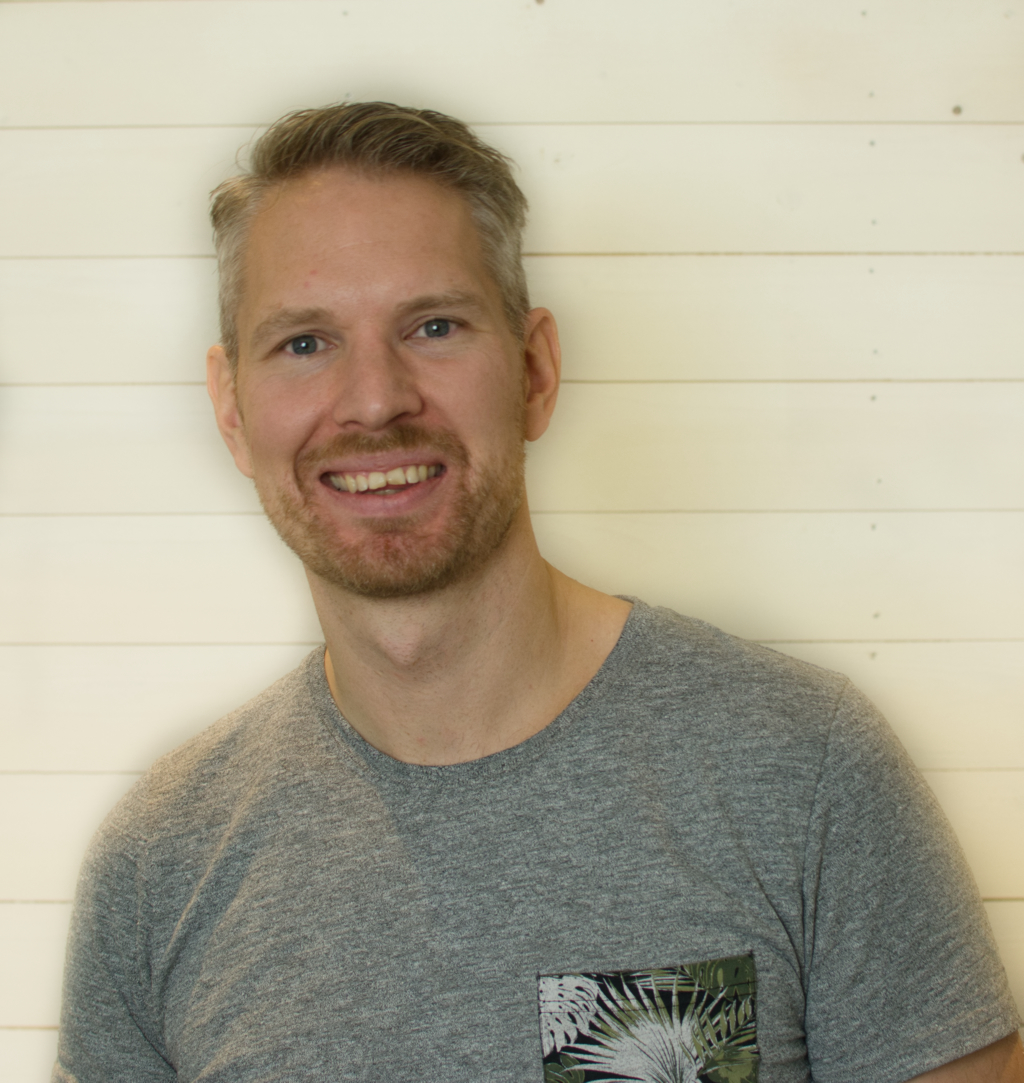 M365 Apps & Services MVP | Consultant work at Exobe, based in Göteborg, Sweden. Co-host of Teamspodden, co-organizer of Teamsdagen. Been working with Exchange, LCS, OCS, Lync, Skype, Teams and related stuff for a while. Mostly writing tips and news after getting questions from customers.