In Teams you can activate "Live Captions" in your meeting so you can read what people say in the meeting. Live captions are only live and not saved anywhere. You can also activate transcription in your meeting and you will get a transcription of what participants say in the meeting, you can read this during the meeting and it is saved so you can read it after the meeting.
These functions been available for a English (US) but it is possible to activate for more languages:
English (Canada), English (India), English (United Kingdom), English (Australia), English (New Zealand), German (Germany), Portuguese (Brazil), Dutch (Netherlands), Dutch (Belgium), French (France), Spanish (Spain), Japanese (Japan), French (Canada), Chinese (Cantonese, Traditional), Chinese (Mandarin, Simplified), Hindi (India), Italian (Italy), Korean (Korea), Spanish (Mexico), Swedish (Sweden), Polish (Poland), Arabic (United Arab Emirates), Arabic (Saudi Arabia), Danish (Denmark), Finnish (Finland), Norwegian (Norway), Russian (Russia).
Activate Captions and Transcriptions
When you change language for captions and transcriptions it will change for both, so you cannot have French subtitles and English captions (not sure way anyone would like that anyway).
Click on the more actions menu (…) in the meeting window and you will see the options Turn on live captions and Start transcription (your administrator might turned this off and then that option will be greyed out).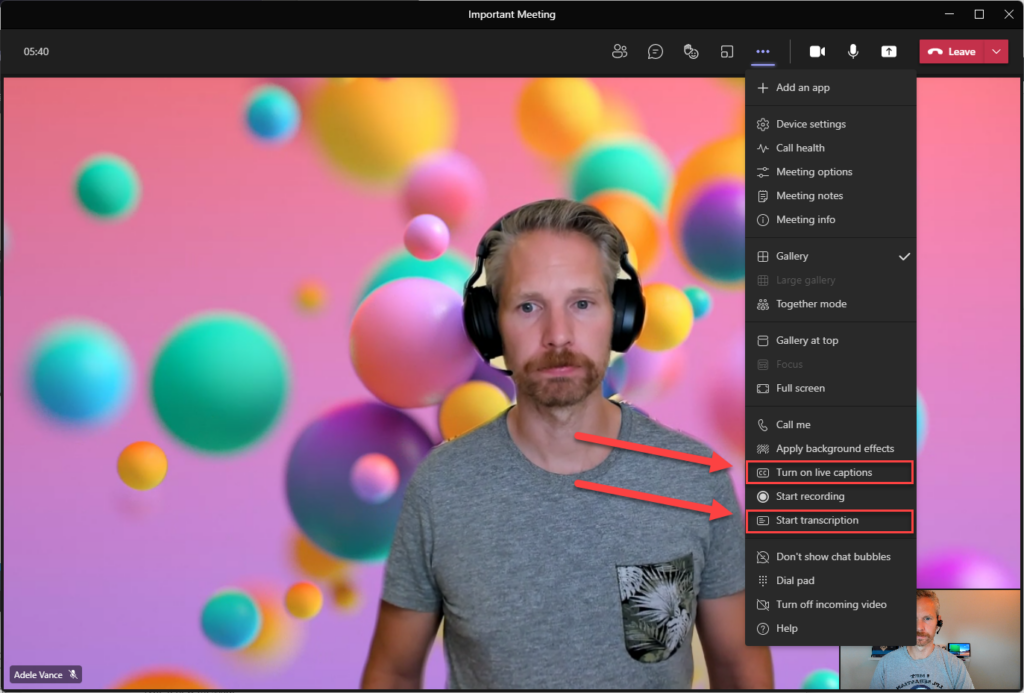 Now I've seen two different ways to set the language, I will describe both.
To change the language in ring 4 (most regular users) look in the lower right corner next to the captions and you should see a cogwheel icon. When you click on that you should see the option to change language.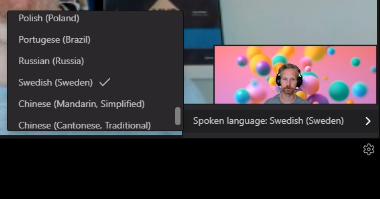 To change the language for captions in ring 3.6 (public preview) look in the lower right corner, you should see three dots and when you click on that button you see Change spoken language.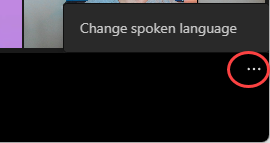 Next step is to select a another language and click confirm to change for the whole meeting.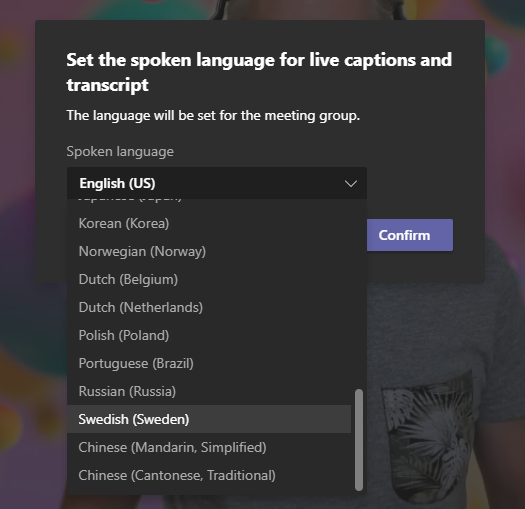 When language been changed you should see a notification about this. Also a CC-icon in the upper left corner is visable.

Note that when you change language you change it for all users, each user can select if they want to see captions or not, but when you change the language you change it for all participants.
You can change language during the meeting, so you could start in Swedish, switch to English and the back to Swedish if you want to.
Change transcript language
If you only activated transcript and not live captions and want to change language you will see the three dots menu in right to the Transcript header, but this option is currently only available in ring 3.6 (public preview).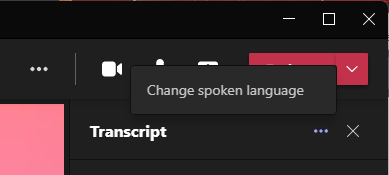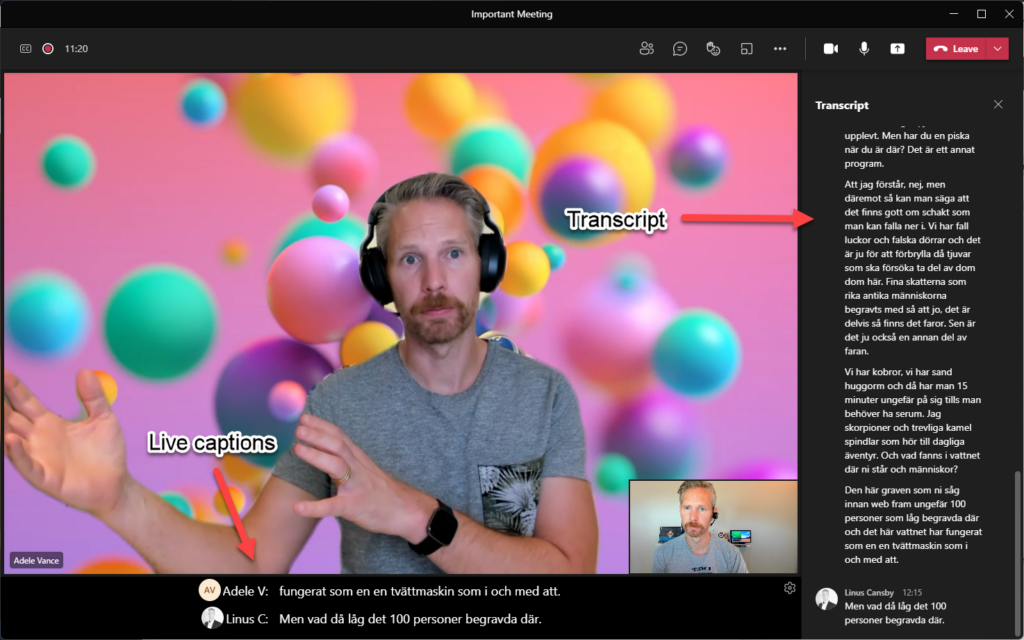 Live captions are not saved anywhere and you cannot read them after the meeting. Transcripts are saved and you can read them after and during the meeting.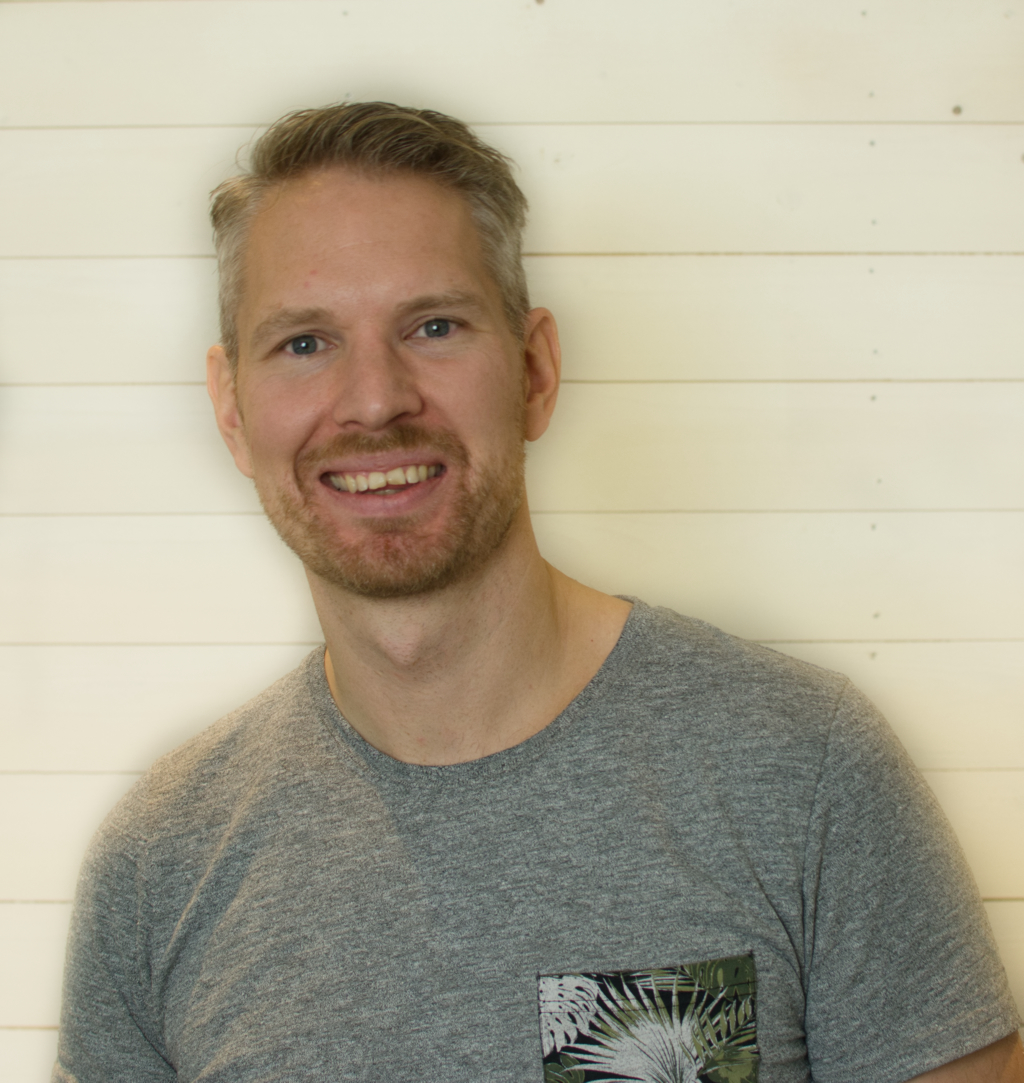 M365 Apps & Services MVP | Consultant work at Exobe, based in Göteborg, Sweden. Co-host of Teamspodden, co-organizer of Teamsdagen. Been working with Exchange, LCS, OCS, Lync, Skype, Teams and related stuff for a while. Mostly writing tips and news after getting questions from customers.