Teams roadmap watch: June 2020
I continue keeping track on the Microsoft 365 Roadmap for Teams feature. I will summarise the features listed in roadmap as "in development" and targeted for release in June 2020. I also updated the older articles for the roadmap watch, so check them out here: December 2019, January 2020, February 2020, March 2020, April 2020 and May 2020.
Audit logs in Shifts

Pinned Posts

Great feature that will allow you to pin posts in a channel. All users will be able to pin messages unless this feature is disabled in the channel moderation settings.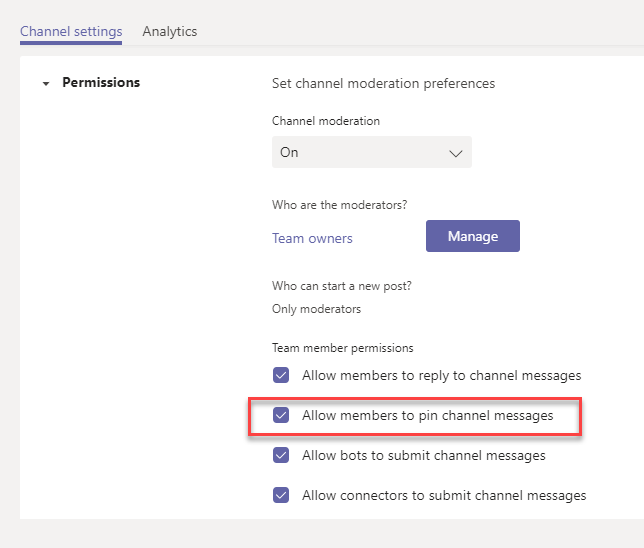 New lobby setting: only the organizer joins the meeting directly

Now all users in your organisation can bypass the lobby, but with this update you will be able to set that all users have to wait in the lobby until you join the meeting and admit them from the lobby.
Link to Roadmap
Multiteam Support in Shifts

This been on the roadmap over a year now. This will allow users to work with Shifts in multiple teams, instead of only one team.
Link to Roadmap
Multi-Window Meetings and Calling experiences

We recently got Multi-Window for chats so that we can pop out a chat to a separate window and now we will get this for meetings and calls too. When this update is rolled out you will be able to pop out a meeting or a call in a separate window, maybe have the meeting on one screen and a channel conversation on another screen.
Link to Roadmap
Tasks in Teams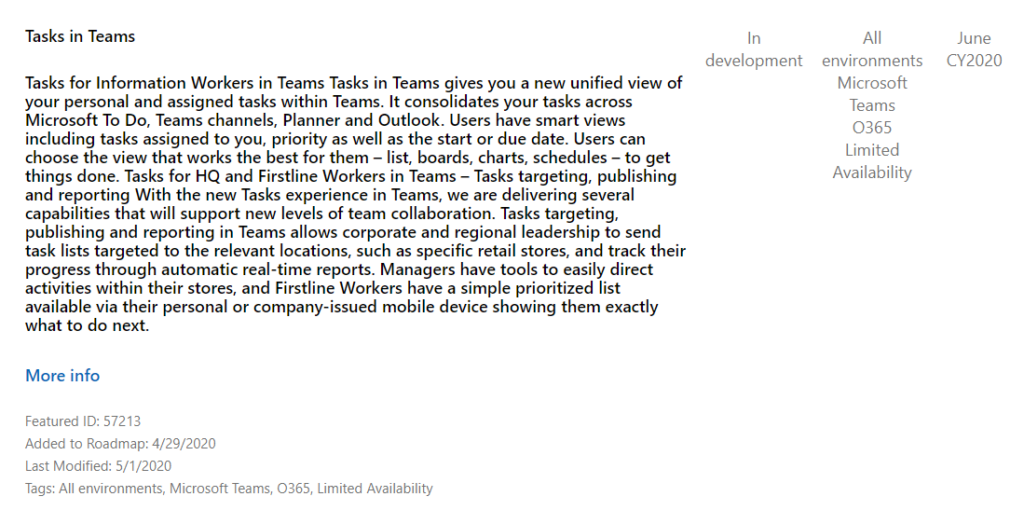 Tasks in Teams will be the new centralised Task app that gathers all your tasks from To Do, channels, Planner and Outlook in one app in Teams. To start with this app will be called Planner, then the name will temporary be Tasks by Planner and To Do and later it will be renamed to the final name Tasks.
Link to Roadmap

More info about the Tasks app
Store recordings in-region storage when Stream is not available in Go Local

Postponed from February. Microsoft have some data centers in regions around the world and some of them are country-specific locations called "Go local", example Germany and Australia. Some of these don't have Microsoft Stream available and therefore meeting recording in Teams been disabled. With this update recording will be enabled and recordings will be saved in the closest regional data centre if Stream is not available in the Go local region. If your organisation don't want to save recordings outside of your Go Local region you have to disable recording in your Meeting policy.
Where your customer data is stored
Additional Power Automate triggers for Microsoft Teams

Was listed for release in February, then March, then May and now June, let's see when it is released. In Power Automate you can create flows that start on different triggers. With this update you will get new flow triggers for Teams.
Link to Roadmap
New experience for launching instant channel meetings

The Meet now button in Teams channels will move, probably it will be a button similar to Meet now in the Teams calendar. Was target for April, postponed to May and now June.
Link to Roadmap
[iOS] Teams Mobile On-Demand Chat Translation

Upload custom images for background effects in Teams meetings

Was targeted for May release but now Q2. Users will be able to upload their own pictures to use as video backgrounds in meetings. It it possible to that today but not with an user friendly interface, read more here: Custom Backgrounds in Teams.
Link to Roadmap
Support for Egnyte as a cloud storage provider

Today Citrix files, DropBox, Box and Google Drive is supported as external cloud storage providers for those that don't want to use SharePoint/OneDrive. Now we will get another storage provider. Administrators can turn on/off these from Teams Admin Center > Org-wide settings > Teams Settings.
Link to Roadmap
Announce when PSTN participants join/leave the meeting for GCC customers

This feature is available in Teams standard tenants and will now be available in for government customers.
Link to Roadmap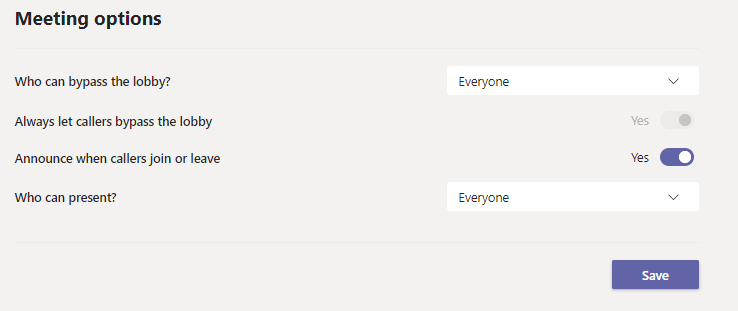 Enable organizers to change lobby settings for PSTN meeting participants for GCC customers

More meeting options coming to government tenants.
Link to Roadmap
Raise hands in Teams meetings for GCC

Raise hand is available in regular tenants but will now also come to GCC tenants.
Link to Roadmap
Rooms Management with Teams Admin Center

Administrators will be able to do basic management of room systems running the MTR software from Teams Admin Center.
Link to Roadmap
Contextual Search

A really good feature we been waiting for a long time, you will be able to search in just one chat or channel instead of all chats and channels.
Link to Roadmap
Organization allowed accounts configuration for Teams

Channel info pane

You will see more information in the Channel info.
Link to Roadmap

Microsoft Teams meeting attendee limit increases to 300 participants
This update will start rolling out early June and Completed by the end of June. First it was communicated that the limit was going to be 350 during a limited time period but now it is 300 participants without any time limitations. This includes chats that recently was increased from 100 to 250 but now also chats will be able to have 300 particpants.
Link to Roadmap
Live captions in Teams meetings for GCC tenants

GCC tenants will also get the live captions feature. Read more about that here: Live Captions in Teams meetings.
Link to Roadmap